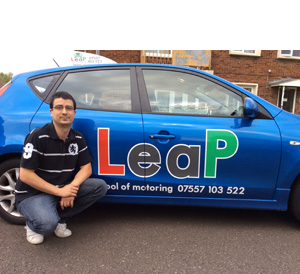 Carl White ADI
I became a driving instructor in 2009 and worked with Bill Plant for several years, improving my skills and achieving a very healthy pass rate and building up a good reputation with pupils. I left and started LeaP in 2013 as I felt that being in a franchise I was living on other peoples reputations and that the one I was building was good enough to stand by itself.
I voluntarily subscribe to completing at least 10 hours of CPD (Continual Professional Development) a year and have attended several courses from Advanced Driving and First Aid through to Drug and Alcohol Awareness.
On 20/05/15 I successfully passed my standards test as a Grade A instructor, this puts me in the top 27% of the instructors tested under this new scheme at the present time. I scored 47 points out of 51. A copy of my test report can be found here.
My Aim is to make your time with LeaP fun and enjoyable. The training you receive will be on a one to one basis. Your training will be at a pace that you are comfortable with but you will be pushed to improve your skills. With the aim to make you a safe, confident and responsible driver, this in turn will allow you to pass your driving test.